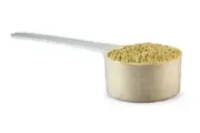 Dinovite for Dogs is a nutritional supplement made with whole food ingredients that contain vitamins, minerals, enzymes, direct fed microbials and fatty acids that can be missing from your dog's diet. These can help support the immune system, digestive function, healthy skin and a shiny coat!
Does your dog itch, scratch, shed, or stink like crazy? Have you tried creams, shots, antibiotics, steroids and lotions? Are you tired of spending, spending and spending at the vet's? Nothing works!
Maybe it's not medical?
It could be a nutritional deficiency. Dogs need good nutrition so their bodies can function properly.
Dog food is cooked at such a high temperature and intense pressure that many nutrients are destroyed. Your dog eats this nutrient-depleted food his whole life. When fed in this manner he can develop horrible signs of nutritional deficiency.
Horrible signs like:
Terrible itching

Sores and lesions

Crusty skin

Bad odor

Excessive shedding
Any of these can be signs of a nutritional deficiency. If this describes your dog, the nutrients in our Dinovite supplements can help support good body function.
Dinovite is a supplement
Dinovite contains delicate nutrients and digestive enzymes cooked out of your dog's food. These delicate nutrients can help with your dog's nutritional deficiency.
No more miserable dog!

No more miserable you!

How about a happy, lovely puppy?

No more hair factory!
Add a little Dinovite to their daily diet and see how quickly your beloved pooch become the happy dog he was meant to be!
Dinovite contains:
Delicate Vitamins ~ for vibrant life
Enzymes ~ to aid digestion
Fatty Acids ~ for skin and shiny coat!
Zinc ~ for skin and immune system
Live Direct Fed Microbials ~ immune system
Trace Minerals ~ proper body function
Itch-less, Stink-less, Shed-less…is just around the corner! Read our customer reviews!
How is Dinovite Sold?
Dinovite is sold in 5 sizes for dogs.
We recommend you purchase the correct size for your dog or dogs. Each package is a 90 day supply for the size dog. Most " Signs of Nutritional Deficiency" will fade within 90 days. So it is important to give your dog a fair shake and purchase a 90 day supply for your dog!
We also offer a 90 day Guarantee on your first purchase so you can try Dinovite without risk!
For Additional Nutrients
We recommend you purchase Lickochops or Supromega fish oil along with your Dinovite. We offer both at a discount with your purchase of Dinovite. Lickochops and Supromega supply omega fatty acids that help support a dog's body function.
Yummy Dog Treats
Our treats are called Nubonubs. Your dog will love Nubonubs and they are great for him too! Nubonubs are freeze dried beef. No artificial dyes, fillers or harsh chemicals.
Gentle Dog Shampoo
Another source of itchy skin in dogs is dog shampoo residue!
Dinovite's All Natural dog shampoo is called Dogosuds. Dogosuds is very gentle, rinses quickly and helps clean your dog's itchy scratchy skin. Make sure to pick up a tube of Dogosuds with your purchase.
Special Note: